Our focus is to ensure a positive culture is present across our clinical and non-clinical staff, while providing outstanding services to our clients and the community at large.
We have strongly defined values that we are constantly doing our best to live by, and this shows across our clinical and non-clinical clients.
In our client's words, we are defined by our rapid response, compliance, cooperation for success, responsible and striving for perfection in our everyday service delivery.
For those seeking new opportunities, we offer the opportunity to grow with us with possibilities of progressing into a long-term managerial career.
Our story is defined by our client's experiences and achievements. Complete Healthcare Connect humbly started in Brisbane and has rapidly grown into a National company, currently providing services in Queensland, New South Wales, Victoria and South Australia. With our current rate of growth, we expect not only being present in every Australian State and Territory but also in expanding to other different sectors of Healthcare service delivery. You want to be part of this exciting journey-please get in touch with us.
Provide or connect the best care of every client, through quality, comprehensive and integrated clinical practice, education and research.
We believe that quality healthcare is a fundamental human right hence we envision bringing quality, affordable and holistic healthcare services to our clients.
To be your trusted quality and comprehensive clinical and non-clinical healthcare services provider, connector and partner.
We aim at improving people's lives with our clinical and non-clinical healthcare services through our enshrined guiding principles that are the very basic foundations and anchors of our current success and future growth.
Our principles provide an overall direction to our services and the tools necessary to rise to any current and future challenges.
Our foundation principles are as follows:
Quality Health Care Outcomes

We are dedicated to delivering high-value, effective and practical interventions that resonate with our clients. Bringing value and satisfaction to our clients while delivering the most evidence based, safe and effective interventions is at the heart of everything we do.
Customer Focused

The key measurement of our actions and ourselves is through the lens of our customers and patients' satisfactions. We build strong relationships with customers and deliver on quality and evidence-based practice and service.
Innovation

Innovation is essential, as we continuously update and implement new evidence-based interventions and opportunities in which we could best assist our clients, partners and stakeholders in an ethical, timely and effective manner.
Efficiency

Focus and effective execution enables us to drive productivity, leaving no stone un-turned in identifying where we can make improvements and deliver service value. We address the challenges of a changing markets quickly and never compromise on quality.
People

Our employees come to work each day focused on improving people's lives. They are essential to the success of the organization. We strive to build and retain a strong team by recognising and rewarding excellence, and by creating development opportunities.
Our values lie at the core of our very foundation principles and are a definition of what we stand for, how we conduct ourselves and how we interact with colleagues, customers, vendors, shareholders and others.
Our core values are:
Accountability

Accepting personal responsibility for our actions and focusing on finding solutions and delivering results. We keep our promises and commitments.
Courage and Agility

Responding rapidly to changes in the internal and external environment without losing quality, momentum, vision and commitment to service. Acting decisively and leading boldly, endorsing and implementing new technologies and research-based practices methods. We stand up for what is right and support others who do so.
Integrity and Compliance

Conducting business with the highest standards of professionalism and ethics. We are transparent, honest, ethical and fair in all of our interactions; people trust us to adhere to our word.
Teamwork and Respect

Achieving common goals through open and honest communication. We treat others, as we would like to be treated ourselves. Team diversity and different perspectives are highly encouraged. We show concern for one another and are supportive of each other's efforts.
Results Orientation

Consistently delivering required business results, meeting deadlines and complying with quality, productivity and performance standards.
Ansbert Nkundineza
Director-UQ-Master of Public Health & Bach (Hon) of Physiotherapy
Bert is the founder here at Complete Healthcare Connect. Bert is a University of Queensland graduate (Master of Public Health) and (Bachelor of Physiotherapy-Hon). Bert is registered with AHPRA, is also a member of Australian Physiotherapy Association (APA) and has practiced Physiotherapy in Queensland and New South Wales.
Bert's vision is to see Complete Healthcare Connect grow into a successful, nationwide company that provides support, improves quality of life through providing quality and comprehensive services to people with physical and psychosocial injuries/disabilities.
In addition to loving playing sports, social gatherings and travelling especially to Tasmania where he spent few teenage years, Bert is multi-lingual with ability to communicate in up to five languages.
Chloe Aupouri
Operational Manager
Chloe is our Operational Manager at Complete Healthcare Connect, she was born and reed in Cairns, FNQ and only relocated to Brisbane.
Chloe comes from a dental care background where he worked in dental practices including managing numerous dental clinics.
She has a passion for helping people and always trying to improve as an individual and a team.
Outside work, Chloe has a beautiful family of 2 kids, a husband and her 2 furry dogs. She loves going to the beach at the gold coast on the weekends with the family.
Chloe is always there for both our clients and our staff.
Mele
Practice Administrator
Mele is joining the #CHCFamily as our Practice Administrator, recently moved from NZ she enjoys working in the community she lives in. She is Tri-lingual in Tongan, Niuean, and English.
Outside of work she is a ZUU trainer (Low Impact Body-weight Training), a corporate boxer and busy mom to her 2 boys. A few words from Mele, "Find your WHY, work hard and be consistent, anything is possible."
Emmy Baert
Senior Occupational Therapist
Emmy Baert is our Senior Occupational Therapist at Complete Healthcare Connect. She is multilingual. Emmy is fully registered with the Australia Health Practitioner Regulation Agency (AHPRA), Australian Counselling Association (ACA), Psychotherapy and Counselling Federation of Australia (PACFA) and a member of Occupational Therapy Australia.
With multiple years of experience and expertise in Complex Home Modifications, Functional Capacity Assessment, Assistive Technology, Paediatric, Geriatric, Access Consulting, Mental Health Counselling, and a special interest in a multicultural approach. Emmy takes the client's needs at heart. She has a passion for travelling, outdoor sports and music.
Nazar Adam
Occupational Therapist
Nazar is our Sydney OT with 3 years of clinical experience working with adults' clients. He is focused on implementing evidence-based interventions within the NDIS space to achieve optimal health outcomes for participants. He takes on a goal-orientated, participant-centred approach and engages not only the participants but also their family, friends and caregivers.
Nazar's work involved supporting people from culturally and linguistically diverse backgrounds, and adults with varying conditions, including ASD, intellectual disability, schizophrenia, anxiety and depression.
Nazar is experienced in occupational therapy assessments, interventions and evaluations in the home and community settings, including:
Functional and psychosocial capacity assessments
Assistive technology assessment and prescription
Support Independent Living Assessments (SILS)
Specialised Disability Accommodation Assessments (SDA)
Nazar is passionate about supporting participants to achieve their NDIS goals in all aspects of their life, so they can lead happy and fulfilling lives within their community.
Sang Luong
Occupational Therapist
Sang is a highly experienced Occupational Therapist, currently providing specific in-clinic and community assessments. Sang has special interests in providing comprehensive Functional Capacity Assessments reports (FCA), Assistive technology assessments (ATs) and Complex Home Modifications (Home Mods-CHM). Additionally, Sang also has a background in workplace injuries, work-cover compensation schemes. Sang is fluent in both English and Vietnamese and is an avid follower of competitive sports (basketball, Tennis and MMA) and also a technology enthusiast who is updated with the latest technology/smart devices/cars.
Natalie Tanthem
Occupational Therapist
Natalie Tathem (Nat) Occupational Therapist Natalie is a community based Occupational Therapist who is part of our NDIS team. She also provides Occupational therapy services for elderly individuals living at home or in residential aged care settings. Natalie graduated from the Australian Catholic University with a bachelor's degree in Occupational Therapy (OT). Since then, Nat has worked in a variety of areas including Brisbane Paralympic Football Program for children with disabilities, NDIS major and minor home modifications, equipment prescription and pain management programs.
Aside from OT, Nat finds enjoyment on the football (soccer) field. Nat has been playing football as a professional athlete for the past five years where she has represented the Brisbane Roar and Melbourne Victory sides. She has a strong passion for the sport and has found many ways in which she is able to overlap her love for the sport with her expertise of OT. Nat was born and raised in Brisbane however is quite the traveller and enjoys visiting new places and having new experiences worldwide.
Nicole Kolo
Occupational Therapist
Nic recently completed her Masters of Occupational Therapy but has had years of experience in disability, education, trauma counselling, expressive therapies and mental health, given her undergraduate studies in Psychology.
Nic is particularly passionate and enjoys working with children and their families. In her spare time; Nic enjoys arts and crafts, music, sports, volunteering, and the outdoors.
Madeline Johnston
Speech Pathologist
Madeline is a certified Speech Pathologist and practicing member of Speech Pathology Australia, Madeline is a passionate team member of Complete Healthcare Connect.
Madeline is passionate about her role as a Speech Pathologist in supporting children and their families to develop communication skills necessary to thrive within their community. She believes that working with children is incredibly fun and rewarding and aspires to have a positive impact on their life too!
Moli Shukla
Speech Pathologist Bach (Hon) of Speech Pathologist (UQ)
Moli is a truly global citizen having lived across three continents; a UQ graduate, Moli is multilingual with the ability to speak up to 4 languages (Hindu, Bengali, Arabic and Swahili) in addition to English. Both her clinical training and life experiences places here in a unique position to assist people from all cultures, age groups, and clinical needs.
Moli is passionate about improving client's speech needs and goes above and beyond to make sure their goals are timely achieved. Moli is also a mum of two beautiful teenagers, loves spending time with her family and pet Taffy. She also has a degree in fashion design and has been instrumental in designing combat uniform for the Indian defence forces in 2002.
Joseph
Junior Physiotherapist
Joseph graduated from Griffith University, Brisbane in Queensland. Joseph has received the Academic Excellence Award from the University. Jonathan has experience in musculoskeletal, orthopaedic, acute and community Physiotherapy.
Joseph's special interests are in looking after patients with neck and back pain and sporting injuries.
Joseph is fluent in English, Korean and enjoys competitive soccer, going to the gym and regularly keeping fit and healthy.
Jonathan
Senior Physiotherapist
Jonathan is a highly experienced Physiotherapist in private practice since graduating from Flinders University in Adelaide. Born and raised in New Zealand, Jonathan has always led a healthy and active lifestyle being involved in soccer, touch footy and athletics. This has transitioned into his career to inspire others to the same. Jon has extensive experience in Dry Needling and treating musculoskeletal conditions and chronic pain.
In addition to that, Jonathan has special interests in the sporting population to assist with rehabilitation and injury prevention. Outside work, Jon is a regular gym goer and always looks forward to his next holiday destination. He enjoys the odd hike and kayaking adventure.
Louise Evans
Physiotherapist
Louise is a University of Queensland graduate (Hon), a dedicated and passionate Physiotherapist who has gained experience in private practice, community, aged care, occupational sports, hydrotherapy and Pilates.
Louise clinical practices puts strong emphasis in providing evidence based best practice and client centred Physiotherapy services with the objective of assisting clients to maintain and restore function, reduce and manage pain and achieve their goals.
Louise is qualified in providing Dry Needling treatments and Pilates.
Louise's aims at continuing her career in the medical field as a medical doctor.
Blake Wilson
Senior Physiotherapist
Blake is a graduate from the Australian Catholic University and has extensive experience in Occupational Health, musculoskeletal and Sports Physiotherapy.
Blake is trained in advanced manual therapies techniques, dry needling, management of neurological and chronic conditions.
Blake enjoys playing cricket and soccer, is a regular gym goer and gardener and doesn't let a frustrating lack of speed stop him.
Victoria Frederiksen
Senior Physiotherapist
Victoria is a highly experienced Physiotherapist with over 15years of experience. Victoria's main area of interests includes but not limited to geriatric Physiotherapy and Manual Handling Training to care staff in Residential Aged Care Facilities (RACF).
Currently, Victoria is based in the Northside providing services to RACF for both functional assessments and pain management programs.
Victoria is a mother of five beautiful children and enjoys spending time with them.
Sherlyn Ng
Dietitian
Sherlyn has been working with the Royal Brisbane women's Children Hospital since graduating with a Masters of Dietics from the University of Queensland.
She has also worked in various hospitals overseas and has both clinical and non-clinical experience working with people from different age grop, health goals and conditions.
Sherlyn is highly passionate in sports and fitness, and is a qualified group fitness and personal trainer. Sherlyn enjoys helping clients reach their physical and nutritional goals.
Karina Zawilski
Dietitian
Karina holds a Bachelor of Health Sciences (Nutrition & Dietics) and fully accredited by Accredited Practising Dietitian (APD).
Karina has worked in both private practice and hospital settings and her passion for nutrition stemmed after dancing professionally in several international ballet companies. She has particular interests in weight management and helping each individual client achieve their goals.
Karina loves helping people make changes that suit their lifestyle and happier. Karina is currently providing both in clinic and mobile services to clients in Brisbane under different funding models.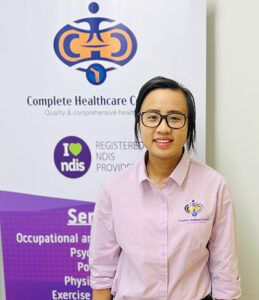 Tracey Luong
Podiatrist
Tracey is a graduate of Queensland University of Technology, who is passionate about providing quality healthcare relating to foot health.
She enjoys all aspects of Podiatry but has a special interest in diabetes foot care, nail surgery and general podiatry care. She is motivated in helping patients achieve their health goals and overall wellbeing.
Outside of work, you will find her at the beach or spending time with family and friends.
Rachael Williams
Exercise Physiologist
Rachael completed a Bachelor of Clinical Exercise Physiology at the Queensland University of Technology in 2018. Since then, she has been working in rural New South Wales where she has developed a diverse range of skills working with a range of clinical populations and pathologies.
She has a special interest in musculoskeletal, neurological, and cardiopulmonary rehabilitation. Rachael believes that movement is a privilege, and that exercise is a key component to improving and maintaining health and wellbeing. Rachael is currently completing her studies in Physiotherapy planning to complete in late 2022.
Rina Muqtasidah
NDIS Consultant
Rina will help you from the start by assisting you with submitting your application all the way through to connecting you to the correct support and services based on your NDIS plan.
With an individual support qualification, Rina works creatively and resourcefully to enable the full utilisation of your support budgets and achieving your goals by focusing on you to direct your life, not just your services. Rina has experience working and interacting with people of various religions and multicultural backgrounds.
Jenny Bennet
Receptionist
Jenny is a receptionist with us, have grown and mostly lived in NZ, Jenny's work ethics and experiences aligns with Complete Healthcare Connect.
She has worked in different sectors and is a highly valuable member of our admin support.
Aurore G
Receptionist
Aurore is our super friendly receptionist, currently joining us part time and studying at Griffith University. Outside work, Aurore enjoys volunteering in community and spending quality time with family and friends.
Willow
Receptionist
Willow is our friendly receptionist at Complete Healthcare Connect and is studying as an Allied Health Assistant and plans on becoming an Occupational Therapist specialising in Prosthetics.
Outside of work, Willow enjoys running around on the football (soccer) field and spending quality time with her family and friends.
Anna Margraf
Receptionist
Anna is our lovely receptionist who is currently studying Bachelor in Nursing. In additional to working with us and studying, Anna also plays professional football with A-League Brisbane Roar Women's team, refereeing and also works as a casual coach for junior teams.
"I was fortunate to have Emmy as my OT, She is wonderful, constantly updates me on everything, wonderful so far. I am incredibly lucky, I been on waiting list for 8months, could not believe how local, flexible and quick they could fit me in. Emmy had no concerns with coming ..."
Williams M
"The staff are quite lovely, it feels like home, they are passionate and go above and beyond with their service provision. I am lucky to have Bert as my therapist, I would not be where I am if it wasn't of him-given the extent of my stroke. I would recommend ..."
Charles
"Honestly I would give this guys a 5/5, I love your services and how they deliver their services, always a phone call away when you need them and quite flexible and effective with their scheduling."
Kakozi
We provide both in clinic and home visits/ mobile services. Feel free to drop in at one of our offices, call us or complete the online form for more information regarding our services and opportunities.